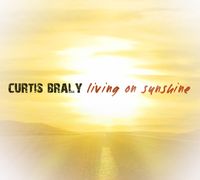 The latest Curtis Braly single, Living on Sunshine, is going out to radio stations nationwide on June 1st.
The opening verse lyrically sets the scene:
"
Top down, cruising down the highway. Feet out the window & a CD spinning around. Blocked out the rear view with duct tape. Threw out the map - don't care where we're going now
"
Give it a listen and enjoy the ride.  And, be sure to call your favorite station to request it.